🠈 Grand Junction, Colorado 🠊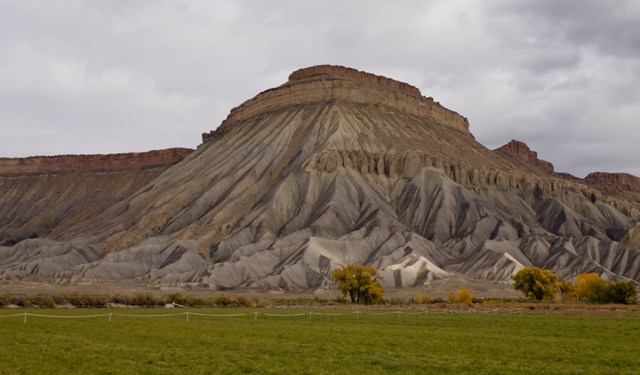 Grand Junction is the County Seat of Mesa, County on Colorado's scenic Western Slope.
Grand Junction is named for the confluence of the Gunnison and Grand River. (NOTE: In the original naming system for the Western United States, the section of the Colorado River running through Colorado was called the Grand River. The Colorado River proper started with the confluence of the Grand and Green Rivers west of Moab. The Grand River was renamed the Upper Colorado River in 1921.
With a population of 58,566, Grand Junction is both the largest city and cultural hub for Colorado's West Slope.
The Grand Valley sits between Colorado National Monument to the South which is noted for towering sandstone cliffs and the Bookcliffs to the North. The town is often symbolized with images of the iconic Mount Garfield.
The modern town of Grand Junction began after the West Slope was open to homesteads and settlement in 1881. The population of this rich agricultural region had grown to 2030 by 1890 and 10,247 by 1930.
Grand Junction became a primary transportation hub of the Mountain West with the completion of Highway 6. The city was fated to suburban sprawl when Interstate 70 was built 2 miles to the North of downtown. Downtown Grand Junction diminished for several decades and new hotels and business relocated along the Interstate. Fortunately, there has been a concerted effort to revitalize downtown and to clean up the walkways along the confluence of the Gunnison and Colorado Rivers making downtown an attractive destination once again.